The international Propeller Club headquarters has a number of promotional items and supplies for local Ports.  This merchandise can be ordered through this page with payment online with a credit card. There is an automatic charge for shipping and handling of $7.95.  International orders and orders of very large quantities will be subject to additional shipping which will be billed separately.
To order items with an invoice to your Port, please call 703-691-2777 to place your order.
Please note that some products have limited quantities in stock. Future orders may reflect increased supplier prices.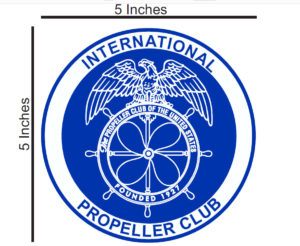 NEW ITEM
Propeller Club Car Magnets:  5″ x 5″ in size Sold in packs of 25 magnets for $37.50 When ordering, please identify how many packs of 25 magnets you would like

Membership pins:  each member of
the Port should be issued a membership pin. 
½" in diameter – $11.00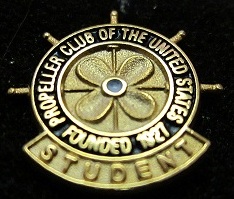 Student membership pins:  pins
for members of Student Ports. 
½" in diameter – $11.00
Port President pin:  Each incoming
Port President should be presented with
a Port President pin at the time of taking office. 
¾" in diameter with simulated stone center – $50.00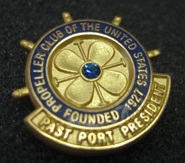 Past Port President pin:  As a token
of appreciation, each Port President
should receive a Past Port President pin
at the end of his or her term, in addition
to any other honors bestowed by the local Port.
¾" in diameter with simulated stone center – $25.00
Anniversary pins:  Recognize long-standing
members with one of a limited number of pins
marking membership anniversaries. 
These are available for 5, 20, 25, 35,
and 40 year anniversaries, while supplies last. 
Indicate year desired in the drop down below.
35 Year Pin Sold Out
LIMITED QUANTITIES: Please call for availability 703-691-2777

¾" in diameter – $50.00
Propeller Club seals:  2" round embossed gold foil seals.    
$0.25 each, minimum order 20.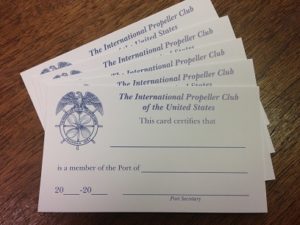 Membership cards are available to
Ports at no charge. 
Wallet-sized. Minimum order 25. 
To request any, please click here.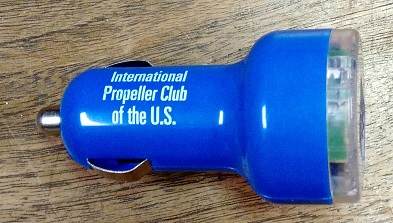 Dual Car Charger:  $3.50
LIMITED QUANTITIES: Please call for availability 703-691-2777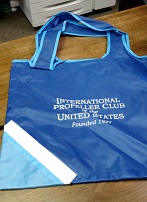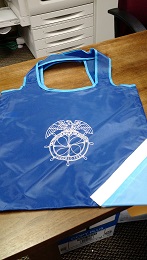 Reusable Shopping Bag:  $2.85

LIMITED QUANTITIES: Please call for availability 703-691-2777
Cell phone Charging Holder:  $2.50

LIMITED QUANTITIES: Please call for availability 703-691-2777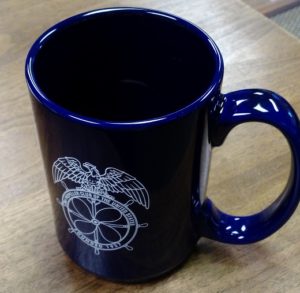 15 oz. Ceramic Mug:  $5.00

LIMITED QUANTITIES: Please call for availability 703-691-2777