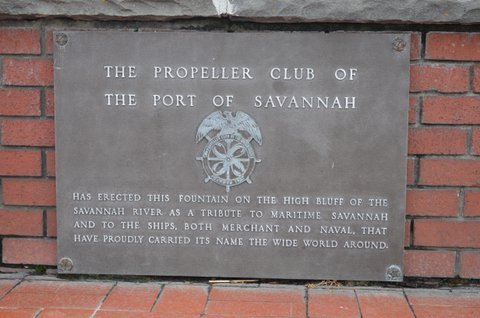 Narragansett Bay Propeller Club 2020
Norfolk Propeller Club 2020
On May 22, 1819, the SS Savannah left her home port of Savannah, Georgia, on the way to Liverpool, England. The ship "put to sea with steam and sails" and reached Liverpool in 29 days and four hours, becoming the first steamship to cross the Atlantic. While historians have estimated that the Savannah was actually under sail, not steam, for 80% of the journey, it was nonetheless an impressive achievement and the beginning of the era of steam. In recognition of the SS Savannah's achievement, Congress in 1933 declared May 22nd to be National Maritime Day.
After World War II, the day took on additional importance. The U.S. Merchant Marine had been crucial to the Allied forces' victory, delivering troops and supplies to fronts in Europe and the Pacific. It was dangerous service–more than 6000 American seafarers and 700 U.S. merchant ships were lost to enemy action–and it was carried out by civilian seafarers, who went to sea voluntarily despite the danger. In the years after the war, Maritime Day became a memorial to those whose sacrifice had helped secure victory.
The President of the United States offers an annual proclamation of National Maritime Day, enumerating the ways in which the country relies on the service of the Merchant Marine. The 2017 proclamation can be found on the White House website.
Since its inception, Propeller Club Ports in the U.S. have sponsored National Maritime Day observances, which might be designed to promote the role of the maritime industry, remember the service of others, and provide opportunities for maritime colleagues to celebrate together. Propeller Club Ports outside the U.S. are also encouraged to sponsor Maritime Day observances on or near an appropriate date in their communities.
Some common Maritime Day activities include:
♦ Presentation of colors by honor guard of Coast Guard, Sea Scouts, or students of maritime schools and colleges
♦ Local Maritime Day proclamations issued by a mayor or city council
♦ Moments of solemnity and reflection, often including the placing of a memorial wreath on land or water
♦ Lunches, dinners, or other events to bring Club members and their maritime colleagues together, including speeches from public officials or other special guests
♦ Award or scholarship presentations by Club Ports
♦ Hosting events or tours aboard locally based ships